Proven System For Success
Looking for a winning, proven franchise system that appeals to a large, mainstream crowd, and quickly converts them into raving fans? And, a system that's simple to learn, and offers strong operator support? Well, you just found it! GW Gyro & Wings has a simple and easy-to-learn business formula, and serves food that customers crave. Our award-winning Gyro Wrap®, chef-created Wings, & hot-off-the-grill cheesesteaks are cooked fresh and bursting with favor. They create a market vibe the instant you open your doors. Then, our constant support and innovative programs keep your business fresh and dynamic, to maximize success. Our franchisees are like family, and we'd be honored to have you join us.
GW Gyro & Wings has a proven track record for success, and the commitment and passion to keep that trend going to serve our franchisees. Our menu is chef-driven, American favorites, and that's exactly what so many people want. Our food is cooked fresh, hot, and brimming with flavor; and those food experiences make life worth living. We understand what support franchisees need, what food & labor costs you need, and we know how important excellent branding and store support are.
So, why GW Gyro & Wings? Because to maximize success, you need a strong franchise behind you who gets it… and we do!
What a humble beginning we come from, and we're so proud of our growth. GW stands for Great Wraps, our name in 90s when we served our famous, signature Gyro Wrap® sandwich, along with healthy wraps & salads. As we sought a larger, more mainstream market, we began adding more indulgent items like Wings & Cheesesteaks. Along the way, we had Chef Carmen, a popular Atlanta chef, develop amazing, proprietary sauces. Well, it wasn't long before our signature Gyro Wrap®, Wings, and Cheesesteak became the most popular items on the menu, and we decided to rebrand Great Wraps to GW Gyro & Wings to effectively tell folks the unique "craveability" that we bring. And when we did that… whoa, the rest was history. We invite you to be a part of our history, either as a guest at our table, or as a GW franchise owner in your area.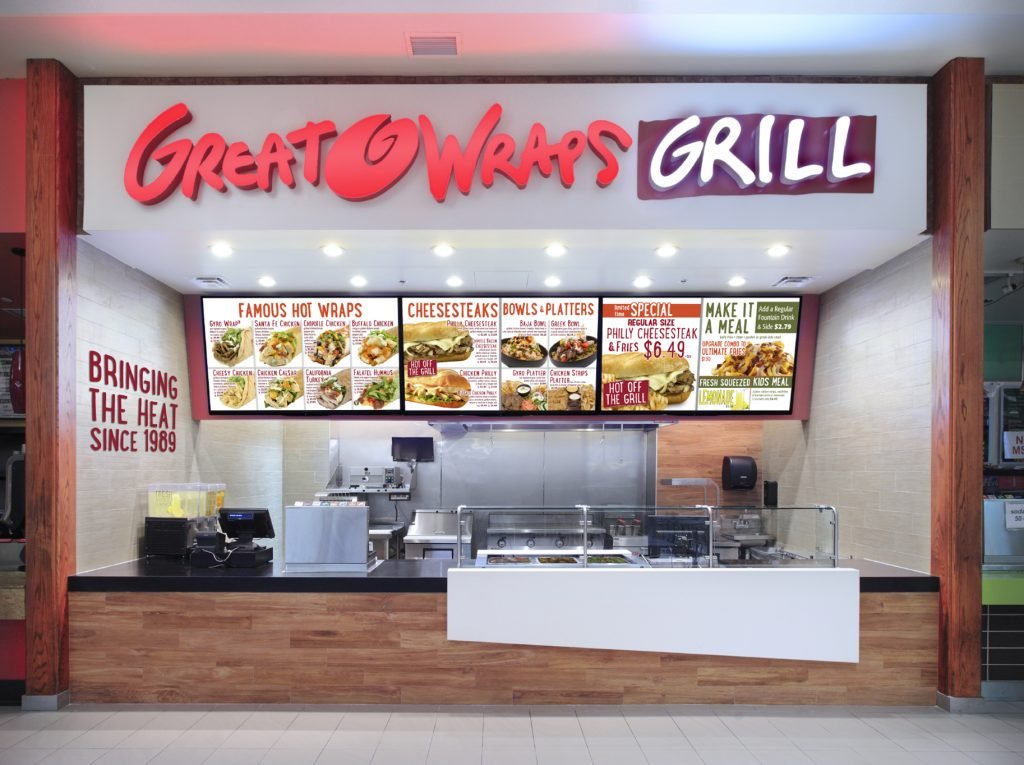 From our very first contact with you, to your Discovery period, to store development, to your Grand Opening and beyond, our Team bends over backward to maximize your success. We will work closely with you to find a great location, that delivers the daily traffic we need to be successful. Once we secure that, we'll never leave your side. That's what a great franchise partner does, and we strive to be just that. Our training, and ongoing operational and marketing support are among the best in the industry. We can even transform first time operators into experts.
The simple fact is this: with a cutting edge food brand, and strong support, your prospects for financial success are so much greater. It starts with a flexible, effcient operation. If you currently operate a location that you'd like to convert to GW, or identify a potential space in a great location, we'll help you understand the volume potential, so you can negotiate properly for that space. And if you're looking for a location, we have relationships with the best retail brokers, shopping mall executives, and airports to help you find a great location.
This is great news for you! Instead of you settling for a secondary location because the brand is fully subscribed, GW Gyro & Wings has lots of open field running. You can choose major markets, and locations that are convenient for you. Just check the map to see where GW Gyro & Wings is looking to expand, and together we'll find you a great location.
GW Gyro & Wings is a proven, great concept, but still requires the necessary capital to emerge, and continue operating long-term. We want to make sure you have the financial ability to be successful. 
Capital Requirements  $175,000 Liquid Assets;
$500,000 Net Worth
Estimated Total Store Costs*  

$300,000 – $700,000*
*These figures are estimate only. Existing restaurant conversions to GW Gyro & Wings can cost significantly less, as do stores where we are granted significant buildout allowances from the Landlord. Leasehold improvements can be higher depending on condition of location, competitive situations, local building codes, Union labor involvement, and market conditions.
Thank you for your interest in joining a dynamic group of entrepreneurs who are bringing the best and most popular American favorites to their local communities. So now you may be asking yourself what the next steps are in the discovery process? We're ready to answer each and every one of your questions at your pace, so that you can make a great decision. Here's a proven process that has moved many entrepreneurs through our process, and into business ownership.
Thank You For Your Interest in GW Gyro & Wings!
To contact us about getting started, questions, or general information, please fill out the form below and we'll get back to you as soon as possible! Thanks!
GW Corporate
17 Executive Park Drive NE
Suite 150
Atlanta, GA 30329